Al Hirschfeld
Louise Kerz once referred to her late husband as the logo of the American Theatre. Rarely has an artist been so thoroughly synonymous with his or her subject matter. Al Hirschfeld always insisted he was an artist and not a journalist; nonetheless, no better or more complete visual record of Broadway exists outside his inimitable portfolio. And though his career began with the New York Theatre, in time his pen would capture the entire world of entertainment and celebrity, a testament to his artistic genius and creative longevity. More specifically Hirschfeld was a caricaturist, who, unlike so many of his colleagues, rarely sought to vilify his subjects. This fact, perhaps more than anything else, is why his work stands apart. There is an appreciation and warmth to his rich line work that suggests an artist equally consumed with the desire to not only portray but to celebrate as well.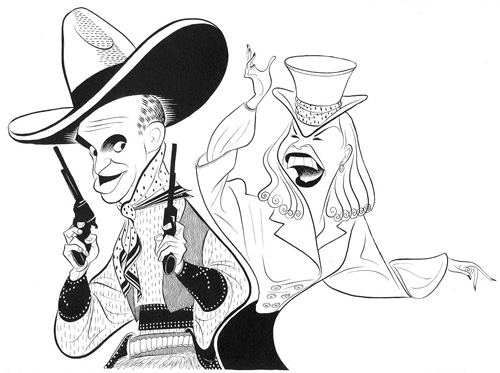 Albert Hirschfeld was born in St. Louis, Missouri on June 21, 1903. His father Isaac had met his mother Rebecca Rothberg at a local boarding house while working as a traveling salesman on his way back home to Albany, New York. After their marriage, they remained in St. Louis where Mrs. Hirschfeld managed a candy store. Babe, as Hirschfeld was know as a child, showed early artistic promise. During elementary school his drawings would often end up pinned to the bulletin board, earning the praise of classmates and teachers alike. With encouragement Hirschfeld continued to draw and soon received the attention and diligent guidance of local artist Charles Marx. Marx recognized Hirschfeld's singular talent and persuaded his mother that a move to New York City would be in the boy's best interests. In the comprehensive Hirschfeld On Line published by Applause Books in 1999, Mel Gussow represents Isaac Hirschfeld as an apathetic character, more or less unconcerned with his son's ability. Once the family had settled in New York, Isaac contented himself with umpiring baseball games and working as a starter for trotting races at East River Drive. Mrs. Hirschfeld on the other hand, remained the proactive parent as a saleswoman for Wertheimer's department store. Babe hated to leave home however, and found adjusting to life in New York City difficult. He was routinely teased for his Missouri accent but found solace in regular correspondence with friends in St. Louis, even going so far as to illustrate his appendix operation for them.
Despite his initial reluctance towards metropolitan life, Hirschfeld blossomed into an enthusiastic and enterprising young man very quickly. With his mother he attended the Julian Eltinge Theatre on West 39th Street and soon became, in the words of a childhood friend, a "vaudeville bum." He studied nights at the National Academy while attending a vocational high school and later took classes on lithography at the Art Student League. In exchange for rent free studio space, Hirschfeld sang and played the ukulele for a music publisher on a tour boat trolling the Hudson River. He could tap dance too and at one point played catcher on a semi-pro baseball team. His love for drawing superseded any other interest however, and he eventually went to work in the art department at Samuel Goldwyn Studios. He would go on to work for Lewis J. Selznick at Selznick Pictures before opening his own studio soon thereafter. Unfortunately Selznick went bankrupt, essentially ruining Hirshfeld's new venture since the bulk of his freelance work came from his former employer. Hirschfeld was able to secure work with Warner Bros. however, and pay off his substantial debt within a year.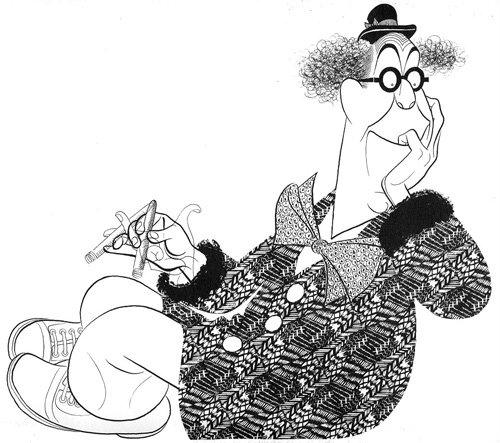 With a boat ticket and $500 gift from a generous uncle in St. Louis, Hirschfeld sailed for Paris in 1924. Here he would share studio space with two young British artists–Roger Furse and Robert Musgrave, while rubbing elbows with international expatriates like Picasso, Ernest Hemingway and Gertrude Stein. In Hirschfeld On Line though, the artist insisted his own circle of friends were not nearly so illustrious. "Everybody was painting the great picture or writing the great novel," including Hirschfeld, who had yet to abandon painting for his trademark pen & ink. The cold Parisian winter eventually drove Hirschfeld south and along with two friends, the artist traveled through Spain and then to North Africa where they witnessed the Third Rif War in Morocco. The paintings from this extended trip resulted in an exhibition in Paris, which was subsequently shown in New York, Chicago and finally St. Louis in 1926. Returning again to New York, Hirschfeld happened to attend a Broadway play with the show's publicist Richard Maney. The play starred Sacha Guitry and Hirschfeld made a quick sketch of the actor during the performance. Maney was so impressed he offered to place it in the Herald Tribune, if Hirschfeld would only put the drawing on a clean piece of paper. With one simple, absent-minded doodle, Hirschfeld's infamous association with the American Theatre began.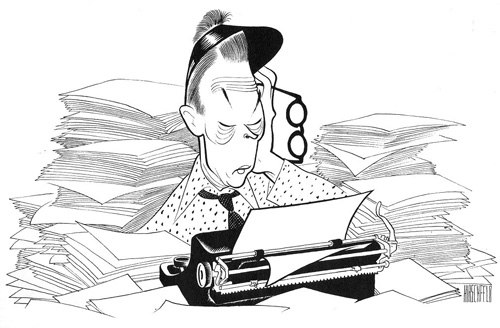 Within the year, Hirschfeld's drawings were appearing in several major publications, including The Brooklyn Eagle, The Morning Telegraph and most importantly The New York Times. At 24, he married actress Florence Ruth Hobby and they honeymooned in Paris and Moscow. The Hirschfeld's spent an entire year in Russia where he took photographs, made numerous drawings and reconnected with an elderly aunt. Upon returning to the States, Hirschfeld would dabble in political cartoons but found the restrictions, as well as New York City, stifling. He and his wife left for Tahiti but eventually landed in Bali upon the suggestion of friend and fellow artist Miguel Covarrubias.
His stay on this beautiful island would be thoroughly transformative. The brilliant light and cultural pageantry of Bali and it's people, captured Hirschfeld's imagination and directly inspired his transition from working in color, to black and white. Here he began "to think in terms of line." He proposed that European artists painted with such vivid color as a reaction to their cold, sombre surroundings and that the greatest graphic artists came from the East, particularly Japan, where "there's something about the sun that take out all the color and leaves [only] shadows."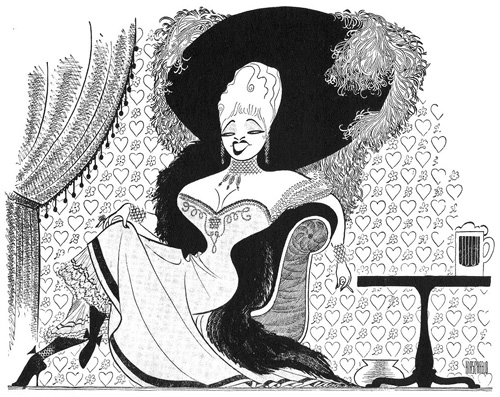 He would also meet and befriend the vacationing Charlie Chaplin in Bali, who eventually helped finance the Hirschfeld's return to America by purchasing four of his watercolor paintings. Although he was infatuated with the earthy existence and natural landscape of Bali, Hirschfeld quickly reoriented himself to urban life once in New York City. His relationship with the theatre would continue to expand throughout the 1930's. As Bud Plant describes in his biography of the artist, "Hirschfeld's job was to capture the essence of each play prior to opening night. He would attend the out-of-town performances and present his drawing to the citizens of New York the Sunday preceding the opening." The influence of Hokusai and other Japanese masters grows readily apparent during this period, as Hirschfeld's images became more "deliberately two-dimensional" and flat. Developing an efficient working method though, was not easy as the artist detailed the difficulty he encountered while drawing for the theatre in Hirschfeld On Line:
One of the limitations of drawing in the theatre as well as for it, however, is darkness. The only way I overcame this handicap was to learn to draw in the dark. I practiced with a pencil stub, sitting in the dark, using a small notepad and sometimes a flashlight. I eventually learned to draw in my pocket. My system was a kind of shorthand I alone can decipher. Written words and hieroglyphic sign help me defeat the darkness. Since then my routine hasn't changed. Seated out front on the aisle with a vacant seat next to me, I start sketching at the rise of the curtain. Later, back in my studio, I correlate words and pictures into a designed composition for the finished drawing.
Hirschfeld and his first wife separated at some point during this period but he soon remarried, falling in love with German actress Dolly Haas in 1943. Daughter Nina was born in 1945, an event he celebrated by placing her name in the background of an illustration for the play Are You With It? This was simply an "innocent prank" according to the artist but soon became a trademark and national obsession, as he began hiding numerous NINA's throughout his drawings for years to come. According to Mel Gussow, even Washington was susceptible as "the Pentagon initiated a $60,000 study to see if hidden NINA's could be used as a scientific tool to measure the visual aptitude of Air Force pilots." For the next five decades, Hirschfeld continued drawing for The New York Times, designed covers for Life and Time Magazine, illustrated numerous books written by lifelong friend S.J. Perelman and produced several collections of color lithographs. After Dolly's passing in 1994, Hirschfeld married long time family friend and respected theatre historian Louise Kerz. On Hirschfeld's 92nd birthday, Louise presented him with this fitting poem taken from the conclusion of Henry David Thoreau's universally acclaimed Walden:
There was an artist…who was disposed to strive for perfection…his singleness of purpose and resolution, and his elevated piety endowed him, without his knowledge, with perennial Youth. As he made no compromise with time, Time kept out of his way, and sighed at a distance, because it could not overcome him.
One could argue that Hirschfeld represents the golden standard for caricature. So often caricaturists expend the sum of their artistic energies on a subject's head, leaving the body much to afterthought. In fact, many consider this technique, whose origin may be traced to the renowned A.B. Frost, the equivalent of caricature. While Hirschfeld was certainly no amateur when rendering the face, the vast majority of his portraits successfully capture the entire spirit of the person as well. When dissecting his work, the vibrant gesture apparent in nearly ever image is overwhelming. Limbs tangle, bodies twist and contort, and the hands tell a story all themselves. In some ways Hirschfeld was anything but subtle. He would push the human figure to the very limits of exaggeration at times but rarely, if ever, offended anyone he drew. In fact, to be "Hirschfelded" was considered an honor. He recorded (and then manipulated) facts with an acute ability and lavish wit, yet he was never devastating. In this way then, Hirschfeld certainly was subtle–or perhaps generous would be a more appropriate descriptive. There is a distinct humanity to his work, an attribute which unfortunately has been discarded by scores of contemporary caricaturists for the blatant and grotesque. Far too many have failed to recognize why Hirschfeld's work remains so entirely relevant.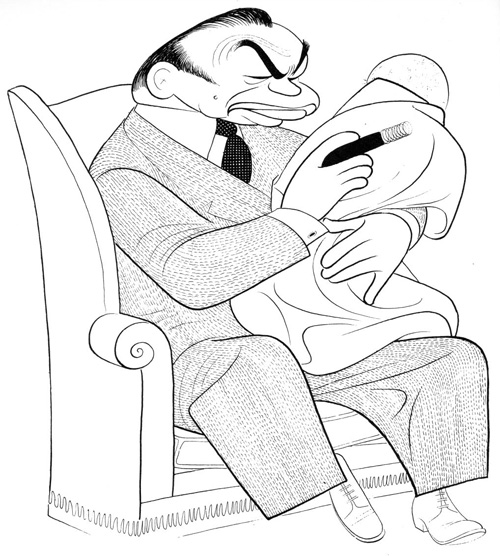 In Bob Staake's The Complete Book of Caricature from North Light Books 1991, there is a quote from the illustrator Edward Sorel concerning his experience in art school. "When I was at Cooper Union, abstract expressionism was in and good drawing was out. The schools then didn't teach you how to draw and I didn't want to become a painter. I was over forty years old before I did what I considered to be a caricature in 'my' style." Darrel Rees details at the beginning of How to be an illustrator from Laurence King Publishing Ltd 2008, the academic requirements for his entry into what was, at the time, the Bath School of Art. "You were required to take an apple, peel it, cut it into four parts, place these on a mirror, rest the knife in the apple, garnish all this with the peel, and then draw it as a still life."  These "meticulously observed pencil drawings" were exactly what he enjoyed doing at the time and he found no difficulty in accomplishing such a task. Mr. Rees goes on to explain however, that very soon he wasn't drawing at all and in fact, began avoiding it. "The education you receive sets out to destroy all your assumptions, in an attempt to make you look afresh at how you observe, draw, paint, and generally create images." He turned to collage as an alternative to drawing, which "kick-started the evolution of [his] own visual vocabulary." When he began to draw again he says, "I found it very refreshing, and while I never felt inclined to work it into my illustrations…the very acts of observing and noting down involved in drawing (as well as deciding which bits of information to include and which to leave out) influenced how I put together images in my collages."
Al Hirschfeld's work was built upon solid draftsmanship and accurate observation. To that foundation he added a generous dose of humor and of course, his own individual creative vision. Darrel Rees does point out, and quite accurately too, that good drawing does not equal good illustration. However, the variety of experience these three artists represent, exemplify the necessity for the sustained pursuit of elementary artistic knowledge–long after one's education is supposedly complete. Al Hirschfeld did receive some formal artistic schooling, but his greatest instructor I believe, was Life and he never tired of learning. He pursued and continued perfecting his craft, from beginning to end. For that example and his perpetual inspiration, illostribute commends the life and work of the one and only Al Hirschfeld.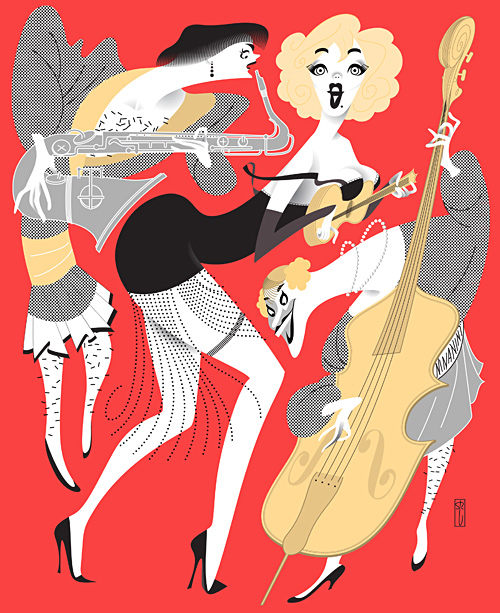 Steffi Schuetze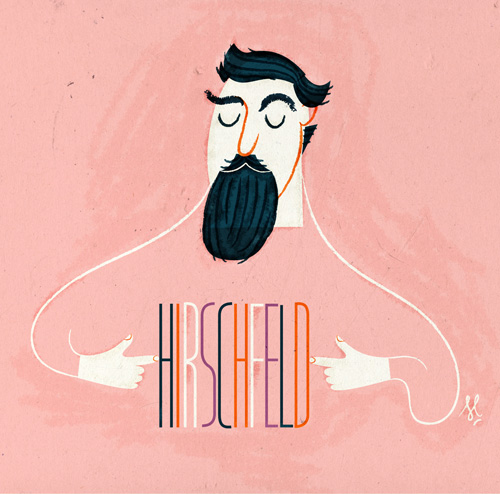 Sol Linero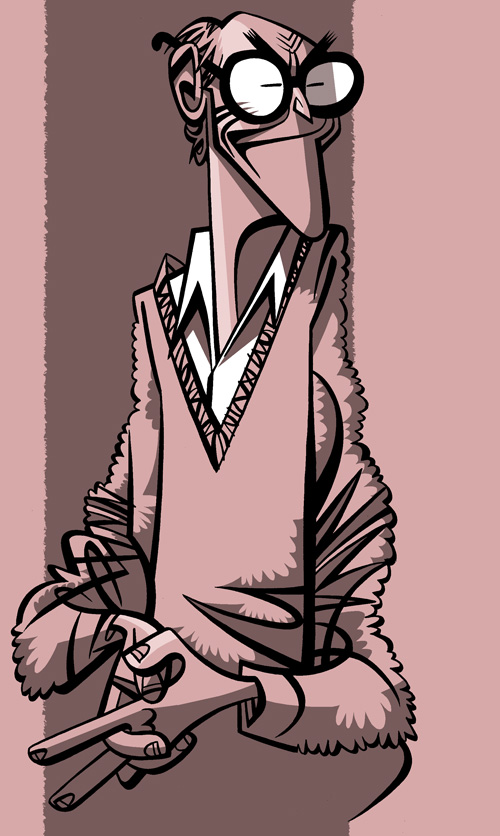 Jonathan Edwards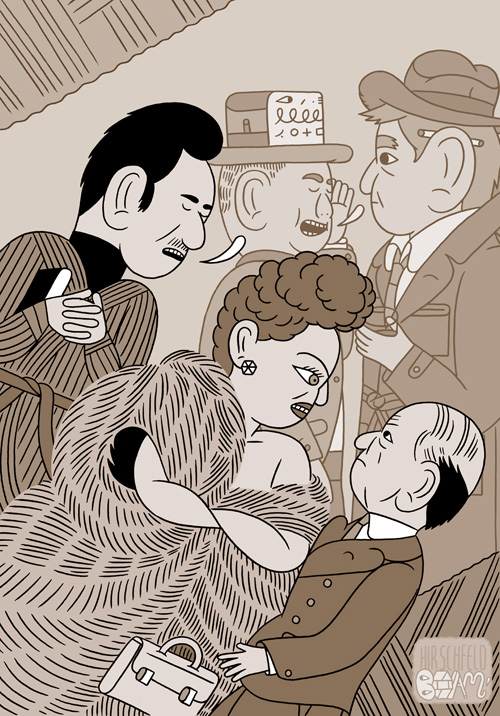 Jonathan Boam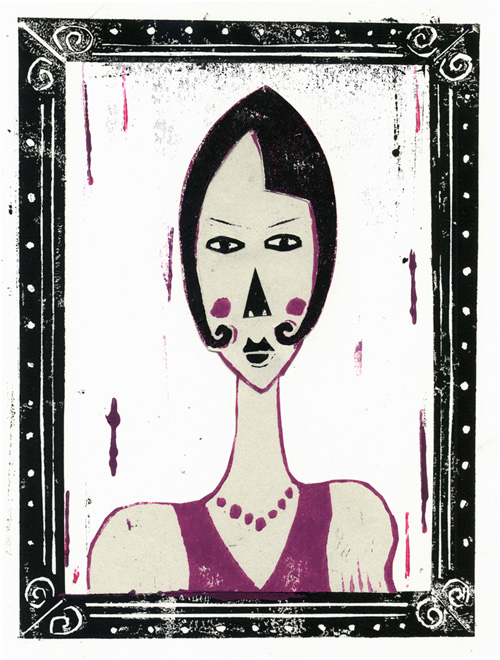 Ben Jones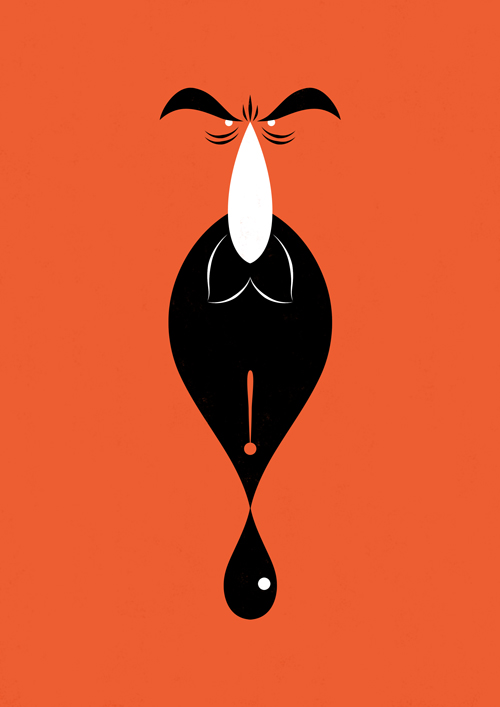 Ross Phillips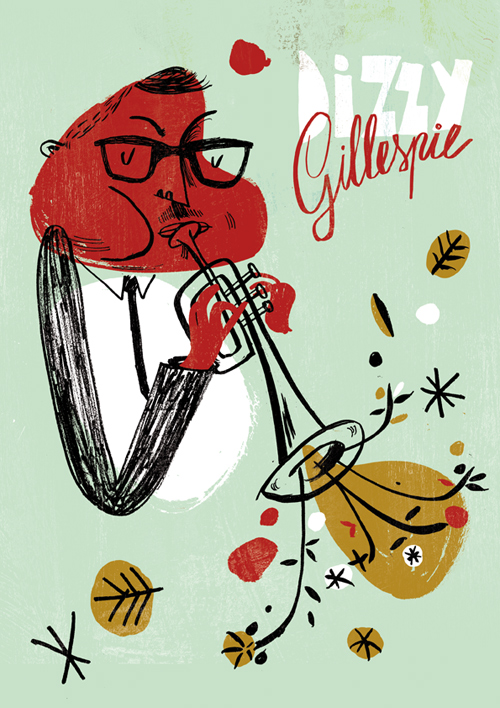 Cesar Barcelo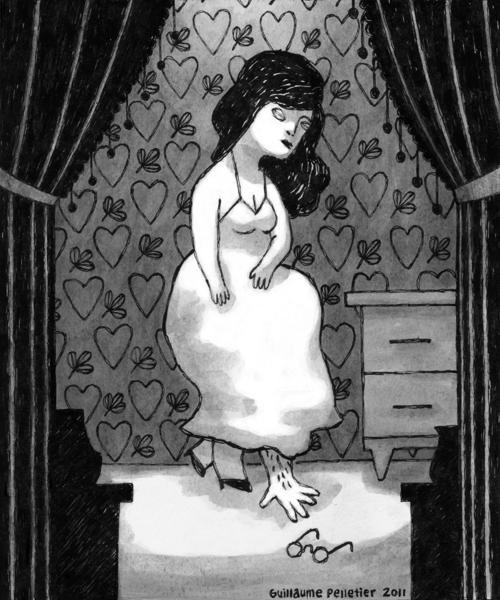 Guillaume Pelletier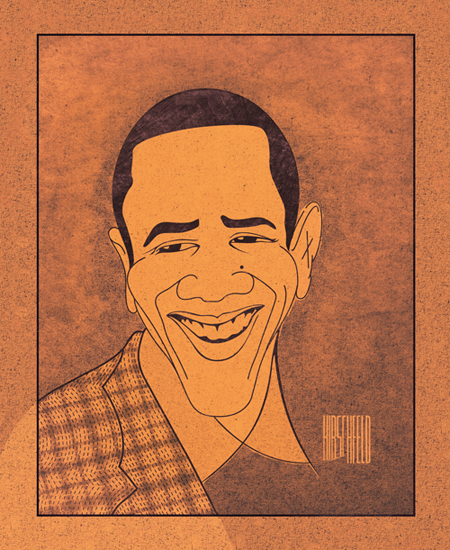 Aaron Becker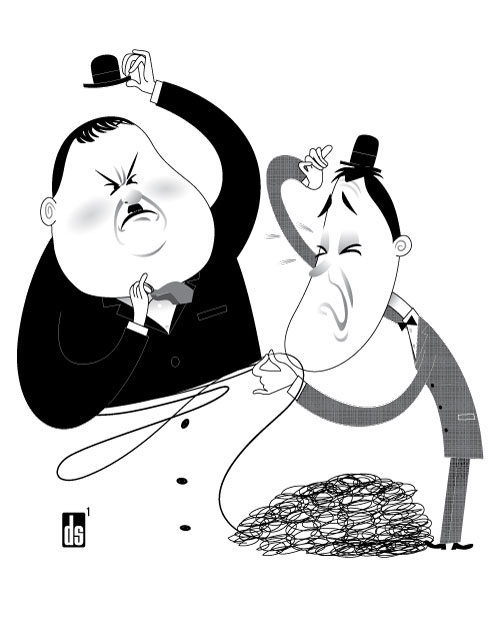 Dan Sipple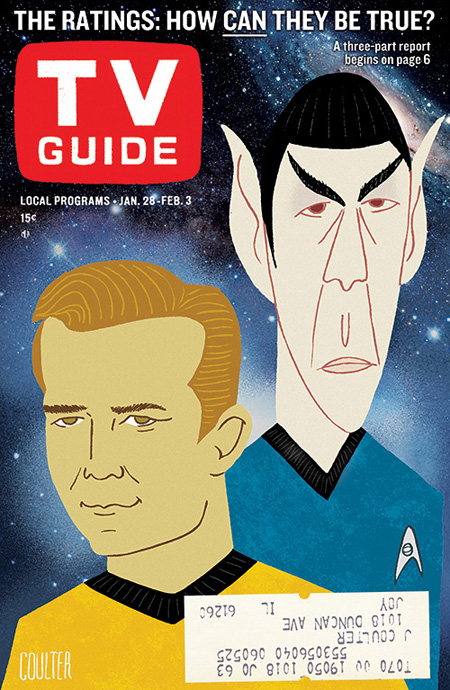 John Coulter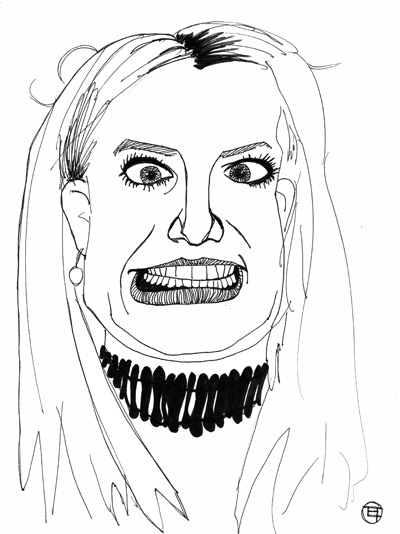 Elspeth Tremblay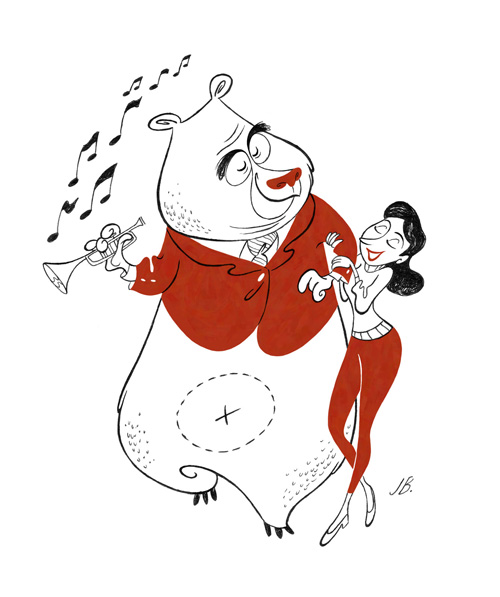 Julien Bizat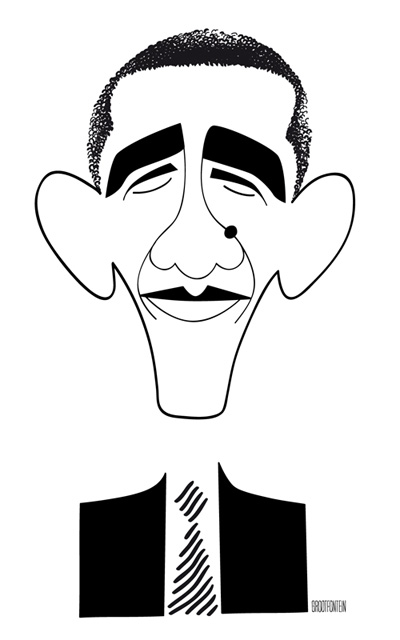 Art Grootfentein
Ken Garduno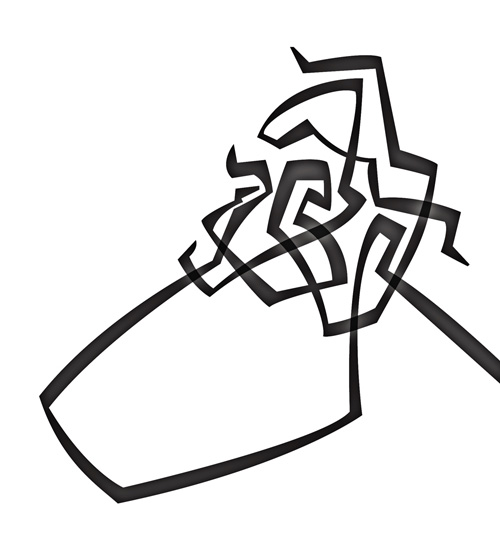 Victor Melamed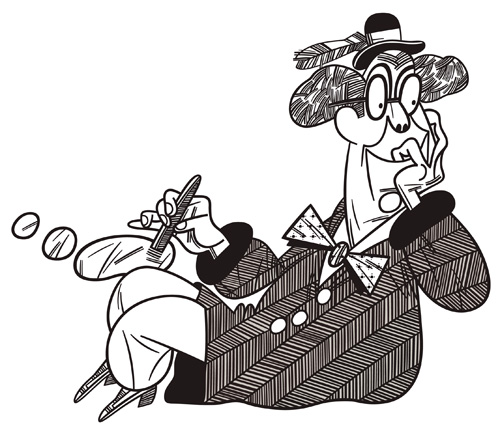 Toby Thane Neighbors
Curt Melo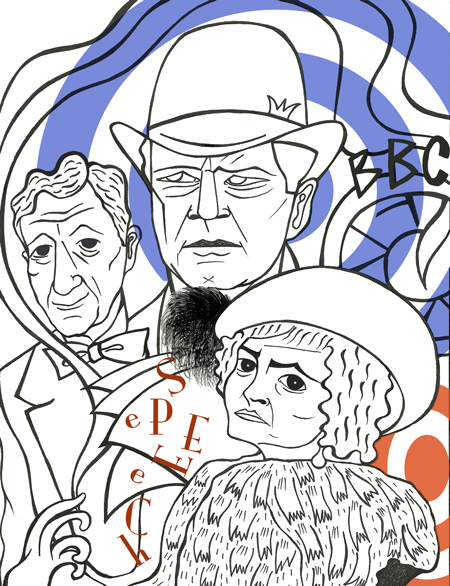 Mercedes Lagunas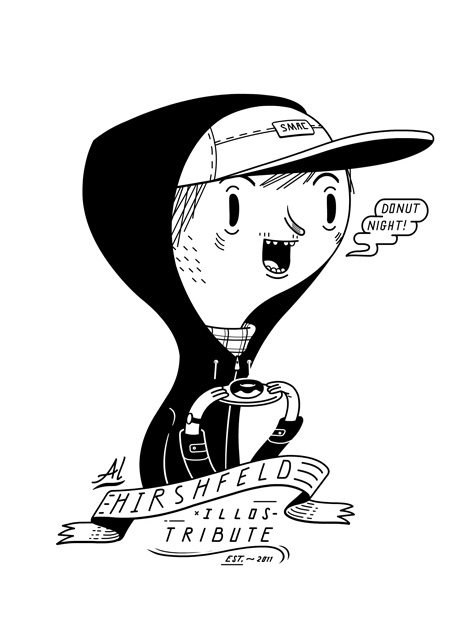 Scott MacDonald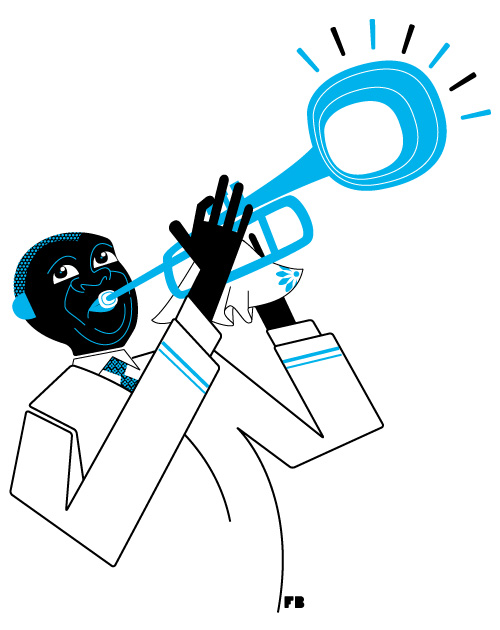 Freddy Boo
Scott Balmer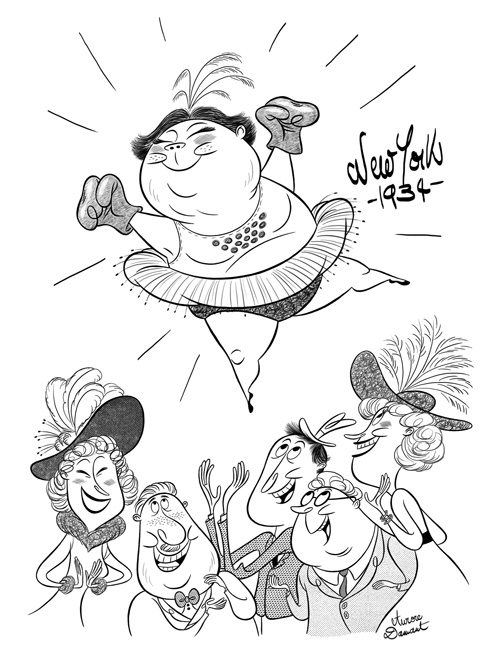 Aurore Damant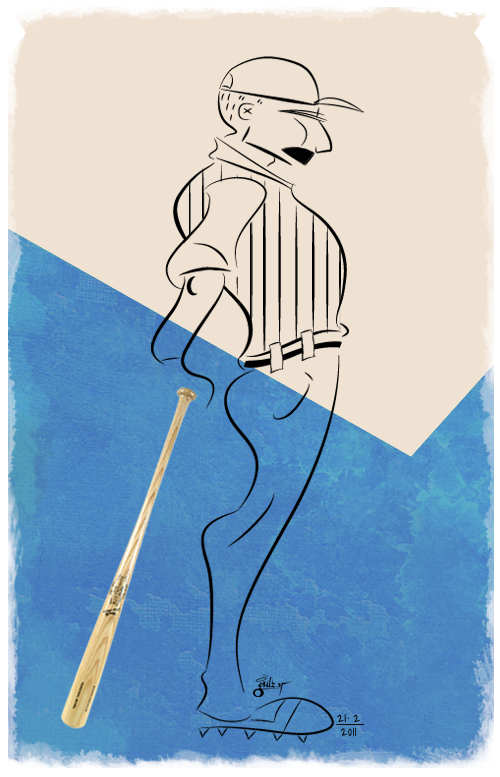 Gulzar Junaid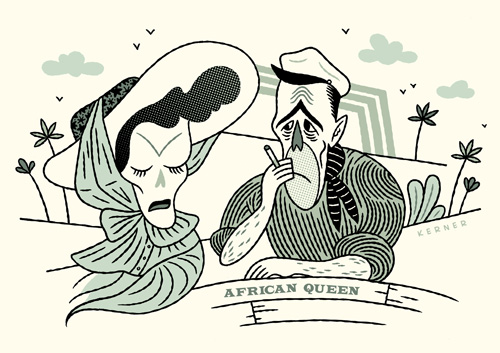 Emmanuel Kerner
To each contributing illustrator, thank you (once again) for taking time out of your busy schedules to participate!