Interview with María Corte Maidagan
Our seventh interview here at illostribute is with one of our very own contributors, the wonderful María Corte. Working from Barcelona, María produces editorial illustrations, book covers and children's books for numerous Spanish and international clients, all the while painting for exhibitions and keeping sketchbooks of her many travels. María's work is highlighted by bold shapes, bright colors and subtle texture, combined with small passages of minute detail and fluid space–resulting in one of the most visually arresting styles within contemporary illustration. It's always a pleasure to have her participate here at illostribute, so I'm very excited to be able to share her story with everyone.
Tell us something about your background and how this has influenced you as an illustrator?
I was born in Barcelona in 1983 and I've been living here ever since. My parents are Argentinians who were exiled as a result of Videla's dictatorship, though, so we've always been aware of our roots at home. Furthermore, they're both psychoanalysts, so I was introduced to Freud's theories from a very early age. This has influenced my conception and interpretation of facts. Therefore, besides my obsessive collection of over thirty My Little Pony toys, I grew up amongst tangos, good literature and Sunday's roast. I've never been keen on sports and I used to go with my father to expositions, many of them of abstract art, which at that age, I couldn't understand.
Did you draw as a child?
We all draw as children. But, for the sake of the anecdote, my parents once saw me drawing from the balcony what I saw in the streets, in the park, through the trees. It was a deliberate drawing. They encouraged my to keep drawing from that moment on and I, as all children do, started showing an interest in what I stood out in. I remember as well, a competition for the best drawing of an apple at school when I was five years old. I came in second and I had to overcome it. And here I am now!
At what point did you decide to pursue illustration as a career?
During my teenage years I juggled with the possibility of drawing or painting for a living, but when I finished my secondary education I decided to study Fashion Design instead. The degree was a real let down, but it helped my realize that what fascinated me the most, was everything related to drawing. I then decided I should embark upon studying illustration.
Where did you study illustration? What was your school experience like?
I studied illustration at Escola Massana in Barcelona. I didn't quite know the real meaning of the word "illustrating" when I started my studies. I became gradually acquainted with the magnitude of it as time went by. The whole experience was really good, the school was located in a former Gothic-style hospital building from the 15th century, right in the center of Barcelona…such a beautiful location. But what the school stands out for the most is its teaching team. I've had superb teachers, all of them sublime illustrators, with a truly genuine vocation and completely devoted to their duties.
Did you feel prepared to enter the industry upon graduation?
Not at all! By the time I finished my studies, I felt completely lost and hardly qualified. I think that was partly due to the fact that illustration requires a constant learning, a process full of both personal and professional development that never ends. Some say the proof of the pudding is in the eating…well, in this case, in the drawing. The tools I was provided with during my studies have indeed been the basis for continuing in my work, but I believe I still have a lot to learn.
Describe your creative process. What tools do you use? How much preparation takes place outside of the computer?
Once I get the order and the briefing and get in touch with the customer, I start doodling. At the beginning of the process I keep making dozens of small drawings on a sheet of paper, writing down ideas, linking concepts. I nearly always start using graphite and color pencils; the tools I feel confident with. Once I've hit upon different ideas that explain the same subject, the step is redrawing them in a more elaborate way until they do the talking themselves and reveal which is the good one, the one I must stick to until the end. With my light box as an essential support, I redraw until the volumes, the composition and the lines are well-balanced and the illustration complies with the order requirements. If the coloring is by hand, I work with stencils and paint, while I scan the drawing and start working with Photoshop if it's digital.
How long did it take you to develop this method?
I've been developing it since I started drawing.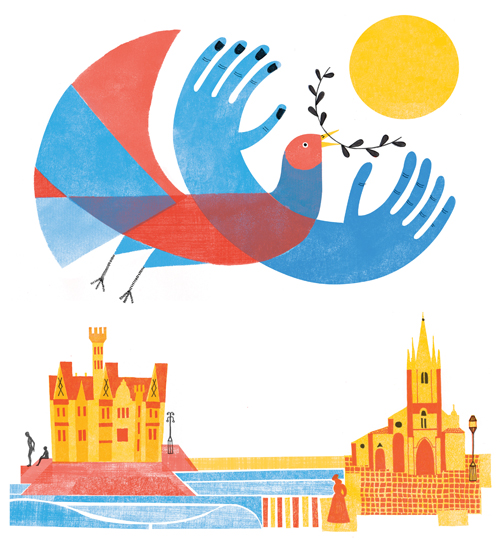 What are you feelings concerning the evolution of style? Do you feel there is one distinct aspect of your work that will remain constant?
Style and its own evolution isn't something you can lead forcibly. It keeps coming naturally over time and with the amount of working hours spent. The world around you and your life experiences exert an influence on it, as well as all the images which keep swamping us on a daily basis and, particularly, the ones you happen to be interested in. Many make an impression on you because of their substance but not because of their form. In any case, it's the mixture of all those ingredients which results in an individual essence that sets you apart from others (equally unique) and will keep varying as times goes by. You never stop learning.
Do you have a favorite part of the image-making process? And if so, why?
Yes, I do. It's the moment it clicks, the moment I manage to bind the concept I'm working on to the image that allows me to express it. That' my very own "Eureka" moment.
How often do you find time for your sketchbook? How important do you think keeping a sketchbook is for an illustrator?
I spend less time drawing than I'd like to, but I do it regularly. It's possibly what I enjoy the most. Every time I travel, I bring with me a notebook that enables me to grasp the fresh essence of things, of whatever my naked eye finds more genuine wherever I am. It's my particular way of taking a picture to its soul, of getting the most out of it.
What is a typical day like for you? Is there a certain time during the day when you feel you do your best work?
By and large, this could be any given work day: I get up, have breakfast, turn my Mac on, think about what to do next, roll my first cigarette of the day and I then I start drawing. I keep doing so in a very persistent way until I realize it's four o'clock in the afternoon, I still haven't had lunch and I've run out of Diet Coke. I'm off to the supermarket and buy some, I cook something quick and then I get back to work. I color the sketch, convince myself about the colors, take a step back, correct. I start all over again. It's dinner time again, I've run out of rolling paper this time and, even though I've still got some Diet Coke, what's left is warm and still. It's pretty dark already but I start seeing results I'm happy with. I realize it's really late but I guess that the best thing about being freelance, is that you don't actually have to wake up early for anybody else. Tomorrow will be another day and the inspiration will hit me anytime during the whole process. Muses can only be found while working.
Do you keep a tidy studio?
It would be way more professional saying that yes, I do keep everything tidy and in harmony, but nothing is further from the truth. The piles of papers mount up turning into ziggurats, there's loads of notes, images, clipping and drawings hanging on the walls, books piled up defying the laws of gravity, orphaned pencils that lost their cases years ago, binders whose content I've already forgotten…An untidiness haven, although I must emphasis the fact that it's always clean. I often recall the famous quote but Paul Claudel: "Order is the pleasure of the reason; but disorder is the delight of the imagination." You could say I imagine my illustrations and then I'm inspired by that chaos, but order comes to the surface once I filter my idea and I express it on paper.
Do you have a favorite artist or illustrator (or several)? How have they specifically influence your work?
Influences are unfathomable, they come from your own experiences and mannerisms acquired from images you've seen and stored in your subconscious throughout your life. Pictorial-wise, I've been unquestionably influenced by Cubism, represented by Fernand de Léger and Roger de La Fresnay and their breakdown of space through geometric shapes.
I must also mention the excellent work of Richard Linder and Tarsila do Amaral. The way they picture the human body is simply fascinating, distancing it from stereotyped standards of beauty and convention. I've been keen on Le Corbusier drawings for some time now, and I always bear in my mind the indelible memory of the wonderful wire images of Le Cirque de Calder.
Ben Shahn is one of my favorites in the field of illustration. Right now, I'm completely amazed by the work and talent of Pablo Amargo.
What are you interested in outside of illustration? Do these interests inform you work in any direct way?
My interests are quite common…I'm fond of listening to music, I love Italian Neorealist films (I have a weakness for Visconti), everything relating to red wine, spending time with friends and family…Reading is another pleasure I don't deprive myself from, and I also live discovering little spots in my hometown, the stories behind them and their anecdotes shared by anonymous faces.
My work is informed by many factors, personal experience, places visited, the impressions I absorb from the city…Everything that surrounds us influences our work in one way or another.
Do you listen to music when you work? What's your favorite genre? What are you listening to now?
I always listen to music while I'm working, although I do need some silence from time to time on days of comprehensive work. I'm interested in all kinds of music. I can switch from a tango by Goyeneche to the latest by Summer Camp, without batting an eye. In any case, my older sister had a big influence on me when I was just a kid and I have soft spot for obscure 80's bands such as The Cure and Siouxsie and The Banshees. In fact, I'm listenign to Shindu's cover of their hit "Happy House" right now. It gives me so much energy!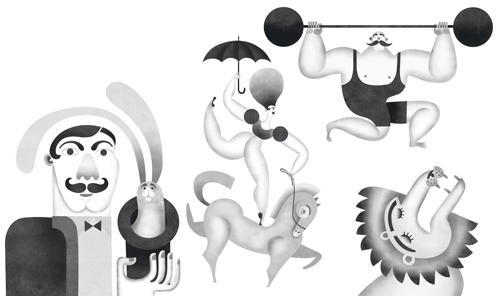 What is your impression of the illustration industry today?
I'm not aware of the worldwide situation, but here in Spain it's a very unstable and hardly valued field. It's often poorly paid, since the prices we establish are rarely respected. Moreover, the country is overbooked with talented illustrators, so it's quite difficult to carve out a niche for yourself.
The lines that once separated graphic design, illustration and fine art continue to disappear. What is your opinion of this (relatively) current development?
The artificial boundaries between art, design and craft have been blurring for several decades. I think this trend is definitely positive, it contributes to the improvement of artistic visual culture.
Do you have any recent or new projects you would like to share with us?
At the beginning of this year, I carried out a project aimed at children called Minimusica for the record company Sones. I illustrated the Cd and we also created an Activity Book in order to supplement it. A total of over fifty illustrations had to be created and it was an exhausting process that made me test myself. The fact that is was intended for children presented an even bigger challenge, since my way of representing things might be a bit harsh for kids, but I was really satisfied with the final results.
Thank you for taking the time do this interview and for participating in illostribute. I appreciate your contribution and support so very much, as well as the inspiration your work always provides.
It's always a pleasure to collaborate with you, I think yours is a fascinating project and it helps me in getting into illustrators I already know in depth or finding out about new ones. The very least I can do is take part, with great pleasure, in homage to those people who have contributed to the exaltation of our profession.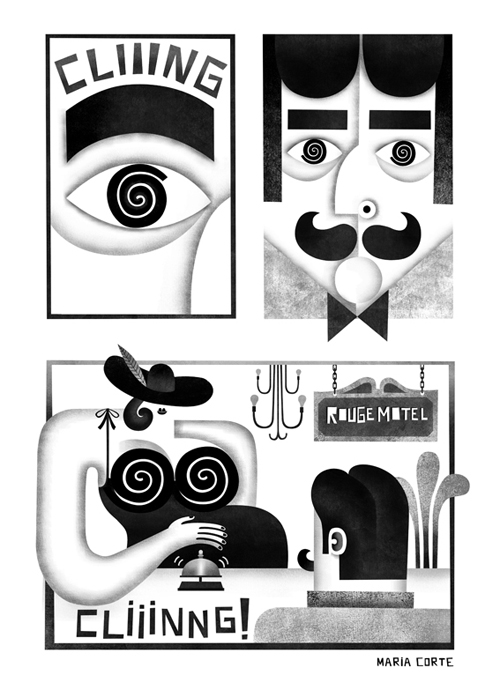 All images © María Corte Maidagan
To see more of María's work, please visit her website. María also keeps a couple different blogs, one which provides more information on her illustration process, as well as a cocktail blog filled with illustrated recipes!
Toby Thane Neighbors for illostribute.com